Bicycle Accidents - What You Need to Know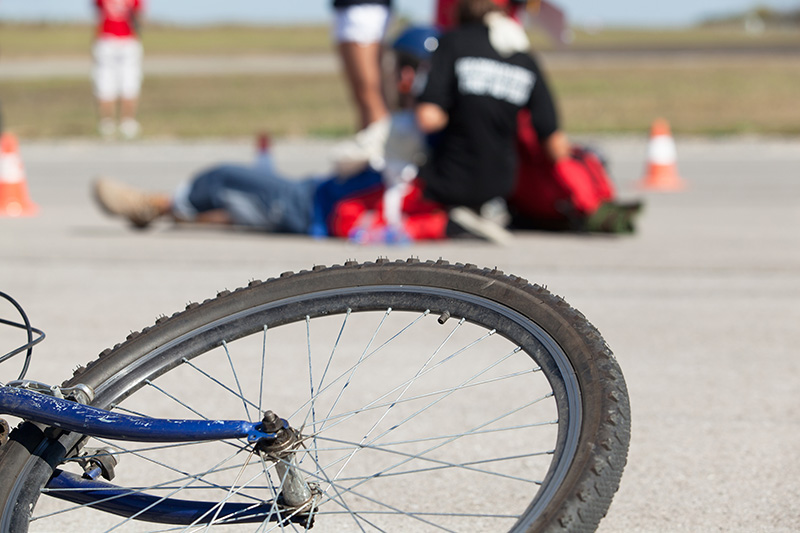 In the state of Florida, bicyclists have the right to both use the road, as well as stay injury free while using the road. This means that other vehicles need to ensure the safety of the bicycle rider, when driving on the street.
Commonly Asked Questions About Bicycle Law
There are some questions that bicycle owners find themselves often asking, when it comes to Florida bicycle law.
Do you have to use the bike lane?
If a bike lane is available, then bicyclists need to use it, when on the road. The only time this isn't applicable, is when the bicyclist is travelling at a similar speed to other vehicles driving on the road.
What do you do if there aren't any bike lanes?
If a bike lane isn't available, then you can use the sidewalk instead. However, there isn't any compulsion when it comes to using the sidewalk. According to bicycle laws in Florida, cyclists riding in the state need to bike as close as possible to the curb on the right hand side, or the roadway's edge. As it happens, this also happens to be where many bicycle accidents and personal injuries happen within the state. This happens when drivers don't respect the right of the bicycle rider to ride on the road.
Is it possible for someone riding a bicycle to move into the traffic lanes?
Bicyclists in Florida are allowed to move along the street's right side, especially when overtaking another cyclist. You can also move to the right side if you need to make a left turn, or if you find a road hazard ahead of you.
In case of an accident, can you sue the driver of the car?
Comparative liability applies in the state of Florida. What this means is that even if both of you are responsible for the accident, you can still apportion blame. This allows you to recover your damage, even if you were also at fault.
Riding a Bicycle in the State of Florida
In Florida, all bicyclists need to follow the traffic rules, same as car drivers do. All the traffic signals need to be followed as well. This means you should pay attention to stop signs, as well as stop lights, and other signs on the road.
When you're riding a bicycle, you need to remember that only one person is allowed on a seat. Your bicycle should also be operating properly. This means that your bicycle's brakes need to be in working order.
Riding Your Bicycle on the Sidewalk
It's legal in Florida to ride your bicycle on the sidewalk. When you use the sidewalk to ride your bicycle, certain laws apply to you. The same laws that apply to a pedestrian using the sidewalk, apply to you as well. According to the law in Florida, bicyclists are allowed to travel in both directions when using a sidewalk to travel.
Giving Right of Way to People on the Road
There is no law that applies across the state that prohibits cyclists from using the sidewalk, you should still be aware of the local municipal codes. This is as there may be city rules that prevent bicyclists from using sidewalks in certain areas. An example of this is how in the downtown areas of Jacksonville, Miami and Orlando, it's illegal to use the sidewalk to bicycle.
You should also remember that cyclists need to give pedestrians the right of way. You must also provide them with a signal that is audible, such as ringing your bell, to alert them.
Laws in Florida on Bicycle Lights
Bicycles, if they are being used after the Sun has gone down, need to have lights. This is in order to prevent bicycle accidents and personal injury, due to low visibility. The light from the bicycle should be visible at least five hundred feet ahead of the bike, as well as six hundred feet behind the bike.
Keep in mind at the same time, that there is a statute in Florida that prevents vehicles from using lights that are flashing. This may be as police cars or other emergency vehicles use flashing lights, and to prevent other vehicles from being mistaken as such. You may only use flashing lights to indicate a turn or emergency in the state of Florida.
Bike reflectors, in the state, are optional. Despite this, having bike reflectors on your bicycle is definitely a good idea, as they help you to stay safe.
Florida Bicycle Law on Passing or Overtaking a Vehicle
Cars, according to the law, must be aware of bicycles. In a no pass zone, cars aren't allowed to overtake bicyclists. The only time this doesn't apply is when the vehicle has an obstruction ahead of them, due to they need to pass over the line that is yellow.
Being Involved in a Bicycle Accident
If you get involved in a bicycle accident and experience personal injury, you may be eligible for compensation. During such times, it's a good idea to speak with a Florida Law Firm, so you can recover damages. BC Law in the state of Florida, protects bicyclists when they use the road. Our professional personal injury attorneys have the experience and will fight for you.
Should you get into an accident while riding your bicycle, the first thing you'll need to do is report the accident after you seek any needed medical attention. This especially applies to, according to Florida law, where a motor vehicle is involved in the crash. This is the case when there is either personal injury or property damage, that is equal to or more than $500. If you are unsure, we recommend you contact our offices to be sure. Be sure to take photos of the accident location. Take pictures from multiple angles to ensure you capture the entire picture. Exchange information with others involved in the accident. BC Law Florida can help you with the legalities of the situation, and enable you to better recover damages from the situation.
Conclusion
In the state of Florida, there are rules and regulations meant to keep bicycle riders safe, and allow them to use the road. Use this guide to learn all about bicycle accident law in Florida. If you or someone you know was in a bicycle accident, then consult us at BC Law.
Call Us at 1-772-223-7757
Email Us at contact@bc-lawfirm.com