Burn Injury Lawyers in Port Saint Lucie, Florida | BC Law Personal Injury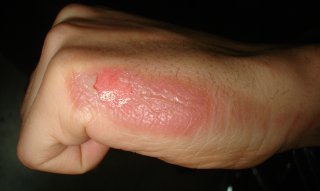 Did an unfortunate accident or event cause you to get serious injury burns? In cases of neglect or recklessness, our burn injury lawyers in Port Saint Lucie, Florida will help you get compensation. BC Law Personal Injury represents burn victims so that they can get the treatment, rehabilitation, and support they need for their pain and suffering.
BC Law represents victims of Serious Burns in Port Saint Lucie, Florida
Having a burn injury does not only result in physical pain or injury. Many of our past clients also suffered from serious psychological trauma and emotional and financial stress, which is why they asked for BC Law's assistance.
Our personal injury attorneys understand the pain and trauma victims get after their accidents.
When you are suffering from a burn injury caused by another person's carelessness or neglect, you do not need to take it alone. It is only right for you to be compensated for what you experienced and are currently enduring. Call our legal team today to receive a free consultation.
What are the typical causes of burn injuries?
A burn is among the most painful of injuries and requires specialized care because the skin contains a high density of nerves. A victim with serious burn injuries might need a surgical skin graft followed by ongoing medical treatment that could cause additional pain and financial hardship. (1)
Burn injuries can be the result of numerous unfortunate accidents. It can be as simple as touching a hot kettle without getting your safety mitts on or forgetting that the coffee you prepared is still too warm to drink.
However, a situation where another person or company caused you harm due to their negligence is an entirely different story. In this case, we will help you file a lawsuit for your burn injury.
Burns can be thermal, chemical, electrical, or due to radiation. Thermal burns result from direct exposure to a heat source. Chemical burns result from direct contact with a chemical solution or a corrosive substance. Electrical burns result from contact with electricity and radiation burns come from being exposed to radiation.
The most common causes of burn injuries include the following
Car, truck, and motorcycle accidents

Were you in a vehicular accident? In some motor vehicle accidents, there is a possibility of an explosion or fire to happen after the crash. As a result, victims can get burned due to the heat or when they come in contact with flammable substances.

Defective Products

Did you suffer a burn injury after using a particular product or technology? When companies or manufacturers release a product that caused you harm, they should pay for their negligence.

Workplace accidents

Getting a burn in your workplace due to the recklessness of the company or co-worker is unacceptable. If there is a failure to implement good safety precautions, your workplace or employer can be liable for your injury.

Apartment building fires

Did your landlord's negligence cause you harm? Inadequate fire extinguishers, insufficient smoke detectors, and faulty fire alarms can easily be the reason why you were in danger.

Scalding food or water

Did a restaurant serve you food or beverage that is too hot to ingest without warning? This can result in a serious injury that would require medical treatment.

Recreational fires

A recreational fire that was not handled well can quickly escalate to an unfortunate situation. Since this should have been prevented, liable parties should be responsible and pay for the damages.
Types or degrees of Burn Injuries
Burn injuries are categorized into three types: first degree burns, second degree burns, and the most severe type, third degree burns.
What is a first degree burn?
Also called minor burns, first degree burns are the injuries that usually do not require extensive treatment. In most cases, a minor burn only brings minor pain and discomfort to an individual that would heal in a couple of days.
Since the top layer of the skin is the only one damaged, applying an ointment can soothe the pain effectively.
What is a second degree burn?
Second degree burns go further than the outer layer of the skin (epidermis) up to its layer underneath (dermis). In a case of a second degree burn, medical assistance will be necessary and the burn may cause the victim pain and high levels of discomfort.
There are two types of second degree burns. First is what we call "partial thickness burn" that will appear red, swollen, and blistered. The other type is called "full thickness burn" which appears as a waxy white, gray, or black blister. In some cases, full thickness burns may not hurt if the nerve endings on the burn site are already destroyed.
What is a third degree burn?
Finally, a third degree burn is the most severe case that includes deep tissue damage. In many instances, it would require close medical treatment that may take weeks, months, or years to recover. Serious burns are extremely painful for victims and can cause them to get infections and other chronic illnesses.
There are many consequences to a burn injury. Unfortunately, many of them may highly affect the victims' way of life and cause significant changes to the way they work, have fun, and interact with loved ones and other people.
Consequences of burns that a victim must go through
Suffering a major medical risk

Bacterial infections are risks that burn victims may have to endure. When the burns are second or third degree, it can take a few weeks to heal, which increases their exposure to infection. Unfortunately, this may affect the victim's organs to the point where they could stop functioning properly.

Paying for expensive treatments and medical costs

From the moment of getting a serious burn, the medical costs will pile up and burden the victim. The expenses of getting an ambulance ride, the required scans and imaging tests, and the payment for the doctors can quickly add up to thousands of dollars.

Having to fit in rehabilitation and physical therapy in their schedule

After getting the emergency treatment, some victims may need to visit their doctors regularly after the accident. In cases where they are suffering from a serious burn injury where weekly treatments are necessary, this can disrupt their work and personal schedule.

Paying for in-home medical care

Severe accidents may leave the victim unable to function well for months and even years to the point where they may lose their jobs.

Paying for medical equipment or prosthetics

Some burn victims may need prosthetics or medical equipment such as a wheelchair for them to get on with their day-to-day tasks.

Deformation and scars

Aside from the physical pain, individuals that suffered from a serious burn accident will need to come to terms with the scarring and deformation in their bodies.

Post-traumatic stress disorders (PTSD)

Burn victims will also have to endure the mental and psychological effects after their traumatic accident. Surviving the incident is one thing, but having to live with the changes in their quality of life after a harrowing situation can be extremely stressful for many.
What type of compensation is available for Burn Injury Victims?
Filing a personal injury claim can be very complex in Florida. Especially with burn injuries.
There are a lot of things and evidence that the court will consider to be fair on all the parties involved. Because of this, having a burn injury law firm represent you will allow for a more reliable case with a higher chance of success for you to get compensation.
We understand how stressful it is to heal after an injury. Allow us to be in charge of your claim so that you can focus on your treatment. With our experienced attorneys' history of accomplishment in this field, rest assured that your rights are the utmost priority.
Eligible burn injury victims can be compensated for the following:
Past and future medical expenses

As mentioned earlier, a burn victim will most likely need the assistance of various medical professionals. Rehabilitation, physical therapy, scanning and x-rays, and other expenses may be compensated from the day they got hospitalized and for their future treatment costs.

Pain and suffering

Since pain and suffering are subjective and do not have a quantifiable amount, a personal injury attorney will help victims get better compensation for their emotional losses. Non-economic damages are included in the computation of the settlement as it is only fair for the victims to receive support for the unfortunate event.

Lost wages

In instances where the victim may find it difficult or impossible to work after their injury, the liable parties may be required to compensate for the duration that the victim failed to show for work. They may also have to pay for the future earnings of the victim that have been disrupted as a result of their permanent injury. Sadly, it is common for victims of serious burn injuries to have their earnings affected and reduced when they are no longer able to do the things they can do before their accident, especially for manual and contractual workers.
Who is liable for the Burn Injury Accident?
Proving who is liable for the accident can be extremely tricky. However, if successful, the victim can receive compensation for their expenses after the accident.
Legally, the party who caused you direct harm should be liable for your injury. This can be an individual, group, or company that acted in a neglectful and reckless way, causing the incident to happen.
As we mentioned earlier, there are a lot of things that may cause a burn injury. The liable party will usually be determined by insurance companies that will be present during your claim, especially in a vehicular accident. In cases where the burns are caused by neglect in the workplace or in a commercial area, pointing out the culprit can take a long time to do. This is where a personal injury attorney can help.
At BC Law FL, we can help determine the liable parties and back it up with legally recognized documents, footage, or medical and police reports. Having a solid case will highly increase your chance of getting a higher compensation that will surely help with your recovery expenses and treatment.
How our Burn Injury Lawyers can help burn injury victims
"There may be times when we are powerless to prevent injustice, but there must never be a time when we fail to protest."- Elie Wiesel.
With years of experience in helping personal injury victims get the compensation they deserve, our legal team at BC Law will always be here to be your qualified representative.
Allow us to be true to our promise of assisting not only the victims but also their families. Our law firm exists so that they can be on their path towards healing and treatment. We want to make sure that negligent parties are fined, and justice will be served.
Whether you got your burn injury at your workplace, apartment, or in a commercial or public place, feel free to get a consultation from us. Our team will always do our best for you to know your rights and help ease your suffering.
References
Chicago Burn Injury Lawyer | Rosenfeld Injury Lawyers LLC
https://www.rosenfeldinjurylawyers.com/burns.html