Memorial Day Travel in Florida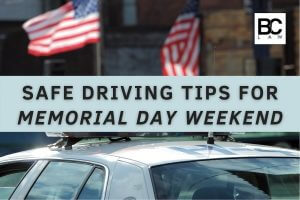 As you prepare for Memorial Day Travel in Florida, your friends at BC Law want to make sure you arrive at your destinations safe and sound. Originally known as Decoration Day, Memorial Day stands as a day of tribute to all fallen militants that died in service of the United States of America. Memorial Day is a federal holiday that routinely falls on the last Monday of May, creating a three-day weekend that has been deemed the unofficial "start of summer." This popular holiday typically kicks off outside events and social gatherings guaranteed to bring many busy travelers up and down the highways. As a result, Floridians should expect a boost in tourism and travelers on Memorial Day weekend. However, BC Law is here to make sure you are prepared to be a safe driver on this holiday weekend.
It is no secret that many people are gearing up for summer holidays like never before due to recent COVID-19 restrictions that drastically limited domestic and international travel. According to AAA Travel, 34 million people are expected to travel roadside this Memorial Day weekend, opposed to flying. That is nearly 18 million more people on the road than last year. With so many people traveling, the chances are high for heavy congestion on the streets and a high probability of car accidents. ValuePenguin analyzed the Fatality Analysis Reporting System to determine that Memorial Day weekend is the most dangerous holiday for car accidents.
Drivers and passengers should be prepared for the road ahead by following these essential, safe driving tips:
Plan Ahead
If you and your loved ones are expected to travel by roadside, take the time out to search what will be your best routes of travel and the best times to leave to avoid traffic. Also, make a note of what the weather will be like and pick an optimal time for the safest driving. According to AAA Travel, gas prices are expected to be higher the week leading up to Memorial Day weekend. So fill up your vehicle beforehand if you can. Also, make sure your car is tuned up and your tires are properly inflated to ensure you get the best highway and city miles per hour. Lastly, make sure you have the following items readily available in your vehicle in case of an emergency: tire gauge, tire iron, jumper cables, road flares, and a spare tire.
Avoid Distractions
It is imperative to be alert and focused on driving safely. The National Highway Traffic Safety Administration (NHTSA) reports that distracted driving claimed over 3100 lives in 2019. Distracted driving can be anything that diverts a driver's attention away from the road, such as texting, eating, drinking, fidgeting with car handles, and even talking to passengers. Safe driving has to have your full attention. To avoid distractions on the road:
Make sure your GPS is preloaded with your destination address and securely placed in your phone mount.
Make sure your car playlist is queued and ready to carry you to your destination.
Only use your phone while driving in the case of an emergency.
Ensure that you eat, drink, and use the restroom before heading out or only at rest stops.
Adhere to Local Traffic Laws
Contrary to popular belief, traffic laws are not suggestions. Traffic laws are implemented to keep road users safe. Drivers must obey traffic laws. In 2017, more than 37,000 traffic deaths occurred across America due to motorists not adhering to traffic laws. Some common traffic laws include but are not limited to):
Wear a seatbelt when operating a vehicle
Make a complete stop at a stop sign
Indicate upcoming turns with your signals
Follow the posted speed limits
Do NOT Drive Impaired
Driving impaired generally relates to operating a motor vehicle under the influence of drugs or alcohol. Although state statutes vary, you should avoid driving or being behind the wheel while under the influence of any impairing substances.
Stop to Rest or Stretch
AAA reports that there are nearly 2000 active rest stops across the United States highways. Along your road trip, stopping to stretch or rest may prolong your time spent traveling. Still, it can help relieve tension that arises while driving for long periods. In addition, making a pit stop to rest or stretch will help you stay alert and refreshed to avoid drowsiness on your road trip.
Safe Driving Tips
Be sure to drive defensively, respecting the right of way for all drivers and pedestrians.
Do not drive if you are under immense stress or emotional distress. Please be mindful that many people are traveling roadside for the first time in over a year. As a result, some drivers will likely be moody or aggressively driving. Do your part not to react or respond but focus solely on driving safely to your destination.
Slow down on wet roads and inclement weather conditions.
Lastly, be aware of all of your vehicle's blind spots.
What to Do if You Are Involved in a Motor Vehicle Accident in Florida on Memorial Day Weekend
Memorial Day weekend is known to be one of the deadliest holidays for motor vehicle accidents. According to ValuePenguin , you are four times more likely to die in a traffic accident on Memorial Day weekend than any other weekend.
Suppose you and your loved ones are involved in a car accident in Florida, and you are not at fault. In that case, you typically have grounds to seek compensation for any damages or injuries. Florida has a no-fault insurance program where injured motorists and their passengers first seek protection from their insurance company for payment for any personal injuries sustained.
To file a claim against a person or party responsible for a motor vehicle accident, you must have sustained a severe injury that limits mobility or causes disfigurement to your body.
Suppose you experience a motor vehicle accident over Memorial Day weekend that results in serious injury, death, or over $500 worth of damages to the vehicles. In that case, you must report the accident to the local police department. This report should be made immediately following the accident for best results. Here are a few tips of things to make a note of at the time of your car accident:
Date/time/location of the accident
Description of the accident
Name of people involved
Witnesses
Weather or traffic conditions
Make/Model of vehicles involved
Take pictures of the entire scene
Contact insurance provider
Obtain a copy of the police report if called
Contact your friends at BC Law>
We are a personal injury law firm covering various cases ranging from motor vehicle accidents, product liability, civil litigation, and more! For more information on our practice areas, please visit our website here.
If you or someone you know are personal injury victims and are ready to get the maximum compensation possible, please contact us today. BC Law trial lawyers are prepared to fight for you inside or outside of a courtroom to ensure you have the best possible settlement outcome and peace of mind to recover and heal.