Who can be held liable in a golf cart accident?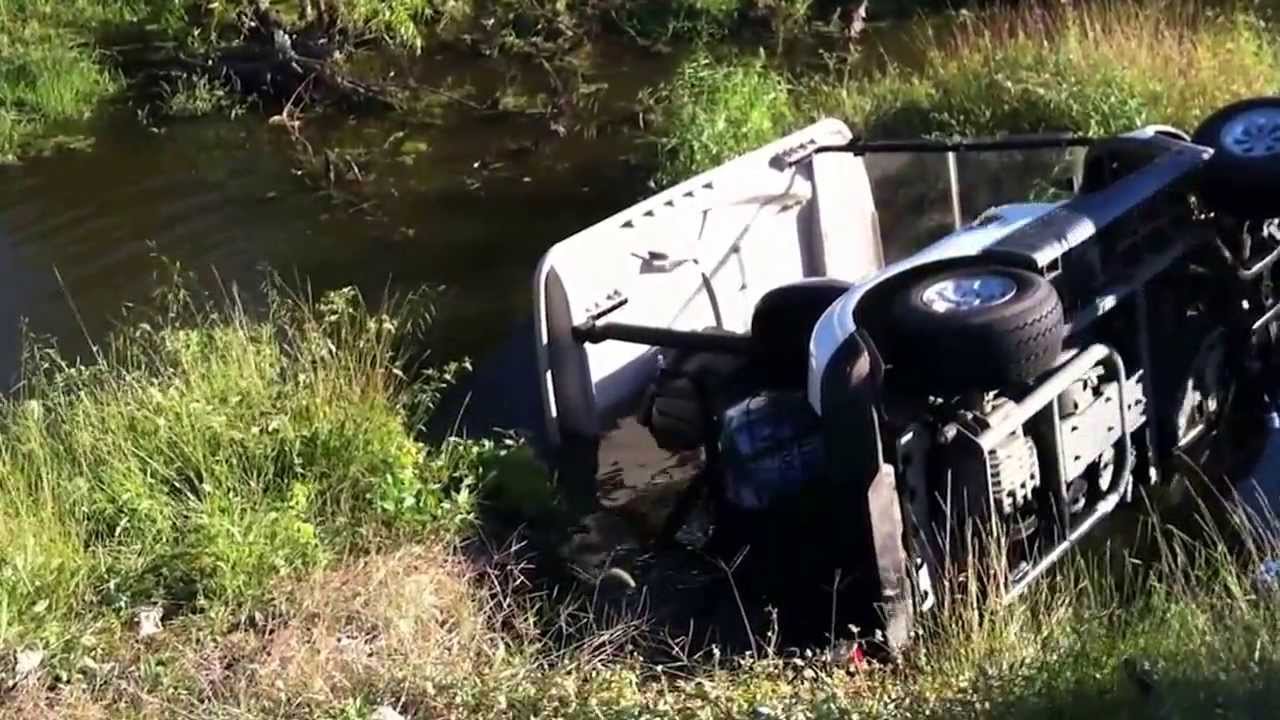 In Florida, golf carts are not just used on courses anymore. Because they are convenient to ride, they are also being used as a vehicle for transportation in universities, parks, hospitals, work places, and some communities. Even then, if the speed they are traveling seems slow for many, golf carts have been causing severe accidents all over the South East United States. Golf cart accident victims may receive damages for their pain and suffering. They could also receive compensation for their lost wages and other benefits. If you or someone you know gets involved in a golf cart wreck, who can be held liable in a golf cart accident?
Are golf cart accidents common?
Are golf cart injuries common? What are the statistics of these accidents in the United States? Why is a golf cart even a threat?
On its own, a golf cart may appear harmless. At times, it may even look like a toy. How is it even capable of harming anyone? It can be easy to underestimate a cart used in golf courses. However, the Supreme Court of Florida has labeled it an instrument capable of causing death or destruction for a reason.
Contrary to what some of us may believe, incidents involving golf carts are actually common. In Florida, there are also recorded fatalities that happened due to the motorized or battery powered vehicle. This includes accidents such as a cart tipping over, ejecting a passenger, crashing to other golf cart vehicles or debris, hitting a pedestrian, and crashing into a body of water. Depending on the circumstance, the results range from minor to serious injuries that may also end with an unfortunate death.
Types of injuries in a golf cart accident
Here are the possible injuries involved persons may sustain in the accident:
Traumatic brain injury (TBI)
Whiplash or head and neck injury
Broken bones, torn ligaments, and pulled muscles
Spinal cord injury
Back and hip injury
Severed limbs
Internal bleeding
When the involved persons experienced a golf cart crash, it is possible for them to suffer from serious or catastrophic injuries. At times, they could even incur permanent injury that will highly affect their day-to-day lives.
How to determine liability in a golf cart accident
There are different parties that could be held liable in a golf cart accident. Aside from the driver of the cart, the cart's manufacturer or the company or establishment that is in charge of it may be the one at fault.
How to know who is responsible for a golf cart accident
To determine liability in the accident, there are many factors that should be considered. The following are the usual parties that could be at fault:
a) Golf cart driver
Golf cart drivers and operators should practice proper precautions when driving the vehicle. They must follow traffic signs and do their duty to ensure that their passengers are safe during the event.
Sadly, not all drivers are responsible. At times, they may be reckless, neglectful, and distracted. When this is the case, you must prove that they did not do their duty, and that their negligence is what directly caused the incident.
b) The driver of the other vehicle
As mentioned earlier, golf carts aren't just limited to golf courses. In fact, they can even be operated on roadways and streets. If you are the golf cart operator and the driver of the other vehicle hit you, you are also eligible for compensation for your injuries.
When you're able to prove that the driver of the other vehicle was reckless or negligent, you'll have a stronger claim.
c) The company or establishment in charge of it
What happens when you drive a golf cart only to find out that it was poorly maintained or defective by the company or establishment in charge of it? In this case, the park, country club, hospital, or establishment that rented or made you drive the cart should be liable.
Even if you are an employee or a renter, the establishment should ensure that you are safe while using the cart, and if they fail to do so, could face the repercussions later.
d) The manufacturer of the cart
At times, a manufacturer of a golf cart may release a faulty or defective part that caused the accident. In a situation like this, it is obvious that they should have recalled all units to ensure that the people who use their product are safe.
If they did not do so, they should absolutely pay the price, especially if the incident has caused grave injuries to the victims who put their trust in the company.
The process of asking for compensation in a golf cart accident
Being involved in an accident that is not your fault can be traumatizing. Since you need financial support for your treatment and medical fees, you should always exercise your right to seek compensation for your losses. However, who should you contact when it comes to this matter? Below we go through the process of asking for compensation in a golf cart accident in Florida.
To answer the question, this would depend on the liable party. For example, if you were in an accident caused by a car crashing into your golf cart, you should contact your insurance company and get the other driver's policy information. This is to make sure that you have their details if you need them. After the accident, you should make the decision of whether to hire an attorney or personal injury law firm to assist you or seek compensation yourself.
In the instance where the negligence of a particular establishment caused the accident, it is important to know that golf cart owners are mandated by law to have insurance to "cover injuries to others and damage to their property after an accident." (1) Hence, hiring a representative would be recommended as they will have sufficient knowledge to help you strengthen your claim.
What are the damages you can receive?
When you settle with an insurance company, you should consider the costs you will have to pay for your healing and treatment. If not, it is easy to be trapped in an insufficient settlement offer that could be your downfall. This is the reason why hiring a lawyer who specializes in accident claims is crucial for your case.
If your claim will not be settled, you can file a lawsuit to ensure that you will get the support you need in this unfortunate circumstance.
What types of damages can you receive after a golf cart accident? Will it be enough for your medical fees and suffering?
Depending on the incident, you may recover damages for the following:
Medical expenses for past and future treatment and rehabilitation
The most important thing that the court will consider is your medical expenses. This includes your ambulance fees, preliminary treatment, medication, and more. If you will need ongoing medical care due to the severity of your injury, the costs will also be considered.
This includes:
Doctor fees
Surgery fees
Prescription medication expenses
Physical therapy and rehabilitation services
Home modifications, and more
Lost income
Did you miss work due to the golf cart accident? In this case, you may be eligible to recover any lost wages that resulted due to the incident. For example, if you are a construction worker and suffered an arm injury preventing you from doing your job, you should be compensated for your missed days of work.
The loss of future earning capacity is also highly considered if you will not be able to earn the same income you were making before the accident. In this case, a process will be conducted to calculate your income potential and you will be granted the difference, especially if the injury is permanent.
Damage to personal property
Did your home or vehicle get damaged in the accident? If the golf cart crashed your car or your personal property, you may also ask the liable party's insurance company for compensation.
Pain and suffering
Aside from the physical pain you are put through in the accident, there could also be mental anguish that you may experience. Since they can be complex to put a value on, an investigation will be conducted to ensure that your trauma, anxiety, and underlying damages will also be considered.
Wrongful death
If your close family member has died after being in a golf cart accident, you can seek compensation for your loss. Damage may also include fees for funeral arrangements to help in this extremely difficult time.
Contact a golf cart accident lawyer in Florida
"A just goal cannot be achieved by unjust means." - Petra Kelly
When an accident involving a golf cart has resulted in injuries or even wrongful death, the victims and their families should receive compensation for their suffering and loss. BC Law's attorneys will ensure that everything is done to get fair compensation after the accident.
Proving liability is not that simple. Our legal professionals will use their expertise to gather pieces of evidence, records, and statements to strengthen your claim. With our years of experience and dedication, your case will be in good hands.
References
Golf Cart Insurance Basics | Value Penguin
https://www.valuepenguin.com/golf-cart-insurance-basics